RIGID INDUSTRIES
RIGID INDUSTRIES LED LIGHTING & LED LIGHT BARS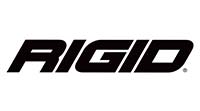 Founded in 2001, Rigid Industries has been providing off road products and accessories at a great value. Customer service has always been a cornerstone, as well as innovation. Cutting edge style and function keeps customers coming back. This tradition continues with the acquisition of Holder Offroad. As the manufacturer of the E-series LED light bars, the brightest and most efficient LED light, they raise the bar on lighting technology. These lights are revolutionizing the way the night is navigated. In 2008, Rigid Industries acquired Dirt Lights, Inc. and Plane Lights, Inc. to expand the lighting products to include high quality HID products as well. The addition of these 3 companies has allowed Rigid Industries to offer a complete line of powersports, military and off-road lighting.

Your Source for Side by Side Solutions. "Home of the Brightest, Most Efficient LED Light. Period."

This exciting new technology in LED/HID lighting provides an exciting opportunity to establish Rigid Industries as the market leader in high quality automotive lighting solutions. They are committed to supporting customers and developing our product line to meet their needs. Rigid Industries strives to innovate and to remain the leader of LED technology.