BANKS 19252 DIFFERENTIAL COVER KIT STERLING 10.25 BLACK MILLED 1985-2019 FORD F250/F350

Product Description
Banks Differential Cover Kit Sterling 10.25 Black Milled 1985 2019 FORD F250/F350
The All-New Patented Banks Ram-Air Differential Cover WIPES OUT THE COMPETITION!
When it comes to product development, we only make products that increase performance and beat the competition. So when we tested the popular Diff Covers on the market, we were shocked to find out that they actually hurt performance. This lead to the development of something so New and Incredible that our performance design has a United States Patent. Look, when we set out to build a product for your vehicle, we only engineer the best. What else would you expect from a company with a winning legacy that spans decades. We are here to win, and we just did (AGAIN) in a huge way.
Emissions Compliant: E.O. Not Required
US Patent #10,443,705
---
Purpose Built
The Banks Engineering team's goal was to perfect fluid flow and reject BTUs from the fluid as fast the ring and pinion puts them in. If the fluid flow is impeded in any way, it results in resistance and aeration which reduce fuel economy and creates heat, thereby degrading the fluid and decreasing the lifespan of the gearset.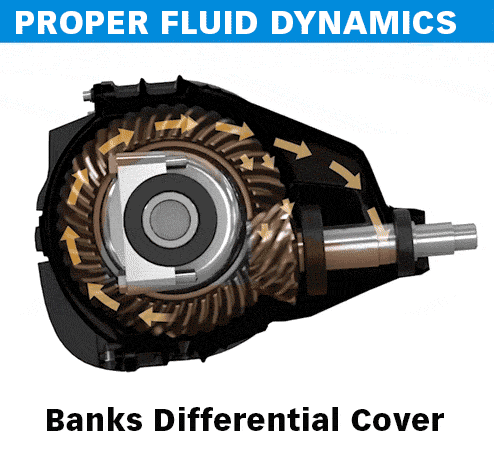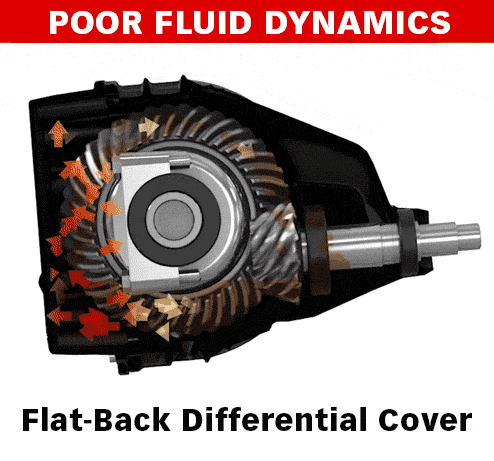 Almost all aftermarket covers have fins for cooling. Unfortunately, those fins are almost useless because there's little or no airflow immediately behind the differential. Nearly all aftermarket covers impede fluid flow. Why does this matter? Aim a fire hose at a brick wall. It turns out liquid doesn't like 90° angles or obstructions.
---
Die-Cast Aluminum Construction
A380 aircraft aluminum die-cast for exceptional strength and precise fit.
304 Stainless Steel Hardware
Hex flanged mounting bolts.
Class-Leading Heat Rejection
24 external radiator fins offer 534 square inches of surface area to ensure optimal heat rejection.
Patented Ram-Air Scoops
Ram-Air system directs cool high-velocity air through radiator fins, eliminating the dead zone. Designed with breakaway scoops.
Magnetic Fill Plug
Magnetic fill plug. 20° angle for easy fill. Simplifies oil changes.
Sight-Glass with Contrast Screen
Sight-glass with contrast screen and Viton O-ring seal.
Magnetic Drain Plug
Recessed magnetic drain plug. Simplifies oil changes.
---
Radiused Ports
Radiused ports for smoother fluid flow.
Directional Fluid Guides
Axle-tube guides direct fluid to axle bearings without churn.
O-Ring Seal
Integrated No Mess Viton Seal. Dry-mount silicon high-pressure O-ring seal. No messy RTV required.
Precision Fit Machined Surface
CNC-machined surface ensures precise fit.
Internal Heat Absorption Fins
Internal absorber fins offer 120 square inches of surface area to transfer heat to external radiator fins without disrupting fluid flow.
Simple Fluid Change
No need to remove cover to change fluid.
Lubricant Raceway
Ring gear raceway provides path for fluid flow to pinion and ring gear-bearing sets.
Ram-Air System w/Breakaway Scoops
Ram-air scoop break away point prevents damage if scoop is snagged.
****DISCLAIMER OF LIABILITY: DUE TO THE COVID19 PANDEMIC, SOME PARTS ARE NOT IN STOCK AND MAY REQUIRE DROP SHIPPING FROM THE MANUFACTURER. PLEASE CALL /EMAIL TO ORDER IF YOU NEED YOUR ORDER FAST OR TO CHECK AVAILABILITY. SOME MANUFACTURERS CHANGE PRICING WITHOUT NOTICE AND ALTHOUGH WE DO OUR BEST TO KEEP OUR SITE UPDATED, WE ASK THAT OUR CUSTOMERS PLEASE BE PATIENT AND UNDERSTANDING AT THIS TIME. THANK YOU FOR YOUR BUSINESS***
******CALIFORNIA WARNING Cancer and Reproductive Harm -
www.P65Warnings.ca.gov
Product Reviews
This product hasn't received any reviews yet. Be the first to review this product!
Customers also viewed